Last week I had the privilege of dining at Nizza – a somewhat casual Italian restaurant situated in the heart of Hell's Kitchen. Somehow the place is also French, since the name is derived from Nice, France. I've never been good at geography, so whatever – but it seems for the most part the menu is Italian with a few French-inspired additions.
The decor is fairly minimal (almost diner-ish), and the menu, though extensive, was mostly small/medium sized dished. I wasn't sure what to expect with this place, but I was actually pleasantly surprised by everything from the food to the service.
I almost always order the Burrata if it's on a menu – it hasn't disappointed me thus far. Nizza's burrata appetizer was this huge perfectly shaped orb of cheesy delectableness, atop a roasted tomato, arugula pesto, and grilled bread.
Of course you know I had to cut into this tender ball of cheese watch it ooze out. Burrata is the sexy cheese we all need in our lives.
The second appetizer we ordered was the Eggplant Rollatini, which I usually don't order at restaurants because I can make a pretty mean one at home. But I'm happy we got this because it was perfectly cooked – the grilled eggplant wasn't tough nor soggy, and the sauce was just the right consistency. On the menu they said it was roasted in the brick oven, which is probably how the textures came together so well. Oh, and cheese, duh.
I've never heard of Pansoti before, so I was really intrigued when I saw it on the menu. It's a stuffed pasta dish, typical to the region of the Italian Riviera. Usually square or triangle shaped, these can be filled with almost anything, but the typical preparation was how it was served at Nizza's.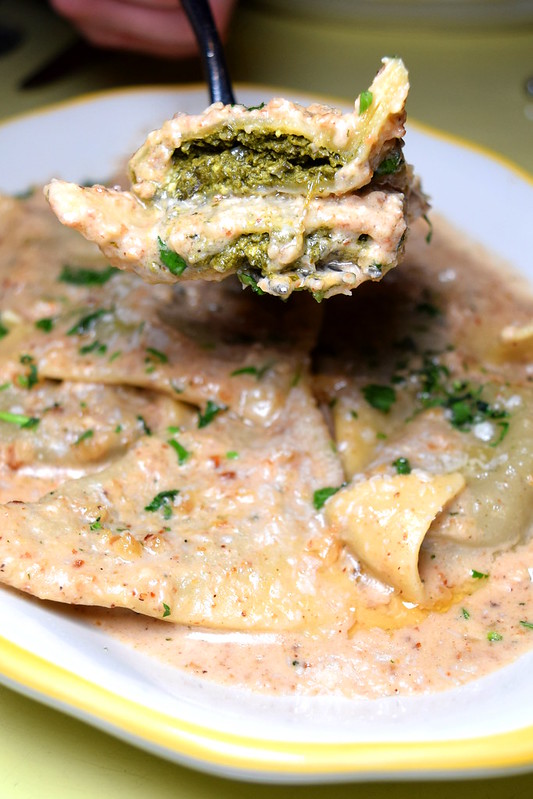 The pasta was stuffed with greens, herbs, and ricotta cheese. It felt neither light nor heavy, but the vegetables were a nice flavor change from what I'm used to with ravioli type dishes. The pasta pockets were tossed in a butter, parmesan cheese, and walnut pesto sauce. The walnuts were lightly chopped that it gave a nice texture to the dish.
The second pasta dish we ordered was called the "Sunday Pasta". What really drew me in was the bucatini, which is probably one of my fave pasta shapes ever. It's a long tube with a hole running through the center, which allows for the sauces and yumminess to get caught in between. Yeah, I know.
The bucatini was mixed in a hearty tomato-based meat sauce, and topped with 2 meatballs and an Italian sausage. Definitely what I want to eat every Sunday going forward until my death.
Last but not least (I know, we're fatasses right?), was the pizza. All the pizzas are made in house in their brick oven. If you knew me, and you read the pretty extensive list of types of pizzas, you should know I picked no other than the "Stinky Cheese Pizza".
This pizza is topped with a multitude of different funky smells – Gorgonzola crema, smoked Mozzarella, Taleggio, Caciacavallo, and lemon thyme with black pepper. I loved every second of the smell and taste of this pizza and I couldn't have been any happier with my choice.
630 9th Ave, New York, NY 10036
(9th Ave, between 44-45th St)
To like or comment on the original post, click here.